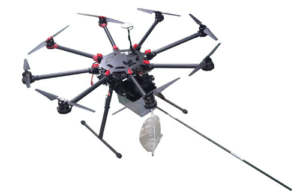 Drones are now being commonly deployed for a range of uses in everyday life, including innovative environmental monitoring by international police forces.
The Scentroid DR1000 Flying Laboratory can sample emission plumes and ambient air up to 150 metres above the ground to gather information that can be combined with thermal imaging, GPS positioning and altitude to provide 3D mapping of a site's air emissions.
It can even be mounted on a motor vehicle and used to track and monitor a broad range of gases and particulates. For example, in Katowice, Poland, such a 'sniffer drone' is being used by police to detect air pollutants that cause smog formation. These are being released from dwellings burning illegal solid fuels like low quality coal, wood waste and rubbish.
Learn more about police in Poland using drones to combat illegal smog
The DR1000 is also being used in South Korea to detect pollution – as you can see in this video (in Korean).
Drones are also used for all types of other uses as shown in this article, from fire-fighting, to delivering goods, to art.
At Air Environment, we are extremely excited about drone's potential for environmental monitoring and are very happy to be able to offer the Flying Laboratory to our customers. Learn more about the Flying Laboratory in this video below or speak to Air Environment about acquiring one for your next air quality project.